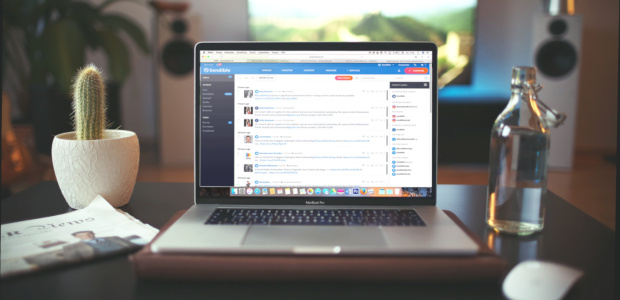 Sendible is a professional social media management solution created for agencies. It's designed to help teams manage social media for multiple clients at the same time without worries. If you run an agency or even if you manage multiple social sites on your own, you need a tool that helps you handle every brand separately while still delivering the best value. Sendible is exactly that, a tool designed to help streamline the social media process and delivery the right way.
Sendible features
Right from the start what makes Sendible interesting is the fact that you get a unified social inbox for every brand. Normally that's not possible, so it's safe to say that Sendible helps you save a lot of time already. You can filter the stream, manage every profile adequately and not miss any notification or message.
Moreover, Sendible has its own content recommendation engine. It analyzes your profile and it lets you know what content resonates with the entire audience all the time. It even helps you work productively as a team and you will have no problem using it. Plus, it even helps you show progress with amazing reports, and that's exactly what you want to keep in mind.
You can connect just about any social media account for every client. They even offer direct access to Canva, YouTube and Dropbox, so handling and sharing content is very simple and convenient. This way you can provide extraordinary social media features and it's all thanks to this great media management tool.
Intelligent messaging
The social inbox is a rather new feature for a lot of users. Here you can get the social updates you need, instead of lots of unwanted messages. You can also see what team members took action, if a matter still requires attention and so on. Everything is great since you can easily manage your business professionally and the payoff will be great no matter the situation.
Thanks to the interactive calendar brought by Sendible, you can figure out when and how to post content. You can even set up workflows in order to approve content or at least prepare it beforehand. It's also great because you can queue the best performing content either individually or in a batch. It's always great because you have amazing control and the feature set is second to none.
Social listening
One of the top advantages for this media management tool is that it also has social listening. Being able to see what customers say about your brand is very important. And this feature lets you know whether the overall consensus is positive, negative or neutral. Based on that you can find the negative aspects and address them properly. Not only will this help you grow your brand, but it will also show every customer that you actually care about them and what they think. If you do that, it will be a great opportunity and the payoff can be second to none.
You can even choose to prioritize replies via highlighting mentions based on their positivity, if they are neutral or negative. And even more so, this tool also covers blogs. So you can see what bloggers and social media users are saying about your business. That alone makes it a lot more comprehensive, reliable and a pleasure to use.
Reliable social media reports
With help from Sendible you can create social media reports for every client. The best part is that these reports are visually impressive, all while still delivering comprehensive information about views, interaction, engagement, reach, page consumption and so on. And these reports can be for a single social site or for all of them. The fact that you can easily customize your report according to the desired aspects is helpful and extremely reliable in the long run. Plus, it's one of the best tools out there and it will be second to none every time you use it.
Mobile support
Even if you're not at the office or you are unable to collaborate with your team verbally, you can still use Sendible on mobile. It has dedicated iOS and Android apps that you can use to publish content, review performance and manage posts from anywhere in the world. it basically allows you to stay productive whenever you want and it does bring in front some astounding benefits every time you use it. Simply put, if you want to make the most out of your social presence and monitor everything even if you're on the go, the mobile apps will help you a lot. The interface is very intuitive and you can easily reply or handle every message as you see fit.
Sendible pricing
Sendible has 4 plans, each one with a monthly or yearly payment option. If you go for the yearly payments, you save 15%. That being said, the 4 options are micro, small, medium and large. Micro costs $29 per month and it comes with 12 services, 1 user and unlimited scheduling. Small is $99 per month, 48 services, build 6 reports and 3 users. Medium costs $199, it's covering 7 users, 35 reports and 105 services. And large will cost you $299 every month, with 192 services, 60 reports and 12 users. It's great that you can access whatever package you want, and each one of those has its own pros and cons as you can imagine.
Should you use Sendible?
Sendible is a very powerful social media management tool. Being able to manage and handle your social media correctly is very helpful and you do have the ability to customize your workflow. It's also nice to see that you can stick to a smaller package if you just want simple media monitoring features. With Sendible you do get the best bang for the buck if you use the medium or large package, but that means you have a lot of clients every month. It's important to note that they have a 30-day trial for every package, so you can test it out before you commit. So you should definitely consider checking out Sendible right now to see how it works for you!
Ready for test drive with no risk? Check out official Sendible coupon code to save some cash.