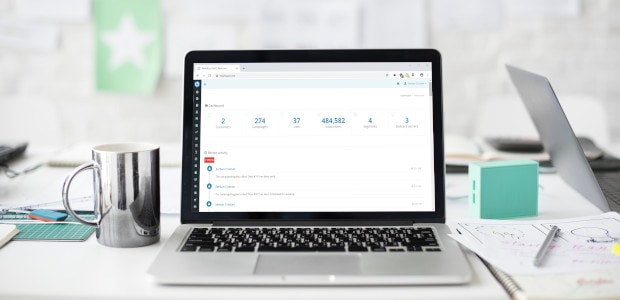 MailWizz is a very powerful email marketing tool that is increasingly preferred by marketers in the recent times. It comes with a whole lot of sophisticated features that serves the purpose best while being easy to use as well. With enterprise level functionalities incorporated in the application, this has no wonder become the number one choice for businesses. Its revolutionary features are incredible and support, second to none. How does MailWizz benefit you?
GDPR Compliant
MailWizz is GDPR compliant. GDPR has come into effect from May 2018 and it is mandatory that you comply with its principles. MailWizz comes with all the tools to make compliance possible, it is just that you need to get familiar with them, but be assured, you will learn them in no time!
Easy to use
MailWizz is easy to create and use. Just install it on your server and get ready to send emails to your prospects/customers. You will be in full control of all data and what's more, you can send unlimited number of emails, at no extra cost. The entire application is easy to learn and with impressive features and administrative tools integral to the app, you cannot ask for more! You can tune it to your needs and grow your business. Email campaigns and managing data was never so easy! Smart import and export of customer list reports, stats and subscribers is also possible with MailWizz.
Reports
Reports are what business owners are most concerned about. MailWizz gives you a detailed report on each and every email campaign. You can easily make out who opened or showed interest in your campaigns. You can also come to know how many times they clicked, not to forget the device and location. It is also possible to share these reports with the third parties. Now, you are excited!
Quick delivery
MailWizz is popular for its parallel delivery system. This amazing feature lets you send thousands of emails in the quickest time, and this is what makes MailWizz special! Reach out to your prospects before somebody else does, and that too, without any additional charges! While other systems charge extra for parallel delivery, MailWizz has included this as a core feature.
Exceptional customization
If you are looking to design your list forms in a creative manner, MailWizz is for you. You are in total control; just load your JS and CSS files and create awesome looking list forms.
IP location
MailWizz, the stunning email marketing tool integrates several IP location services to come up with accurate statistics about the location of your subscribers. This fabulous feature lets you target your customers/prospects more easily and with precision.
Delivery servers
This powerful email marketing tool integrates with SMTP servers besides other services such as SparkPost, Mailgun, SendGrid, ElasticEmail and Amazon SES. Choose the method you are comfortable with, because with MailWizz by your side, you have nothing to worry about.
You can use any SMTP server provided by hosting providers. However those services have limits, so if you have huge email lists you should consider VPS. You can use the same VPS for MailWizz email marketing application and SMTP server as well. This solution gives flexibility and infinite possibilities. And it's not expensive too.
Customer management
You can create a new customer, assign groups and use different tools for management of lists and campaigns.
Clean lists
Keep your lists tidy with automatic bounce processing, feedback support and blacklisting engine. You can configure bouncing to a specific server, however in case of special delivery servers like Amazon SES, bounce processing comes as a default.
Language translation
MailWizz comes with a powerful translation system. So, language is no barrier to use this email marketing tool. Translate to your language with ease and get set to rock on! Monetize to the fullest and become the leader in your industry.
Constantly updated
Another notable point with MailWizz is, the application is updated regularly. It is being used by millions and the guys here have always been striving to provide the customers with the best of features. Feedback is always appreciated and efforts made with immediate effect to add more features and fix bugs so that the interface gets better with each passing day.
Concern separation
MailWizz has taken care to separate the customer tasks by administrative tasks. The application is split into customer area and backend area that make things clear and easy to handle, especially when dealing with a large customer base.
Extension
MailWizz has been built with extensibility on mind. The extensions allow you to change the functionality the way you please and this feature in particular has been making millions of businesses happy.
Powerful API
Third party integration has become much more simpler with powerful API. With this, you can remotely manage lists and campaigns, subscribers and templates. For easy integrations, just trigger the web hooks, process customer data and you're done!
Manage customer transactions
MailWizz is not only a great autoresponder, but can make you an email service provider as well. The application integrates with PayPal and other payment gateways easily and offers all the required tools to manage your customers' transactions efficiently.
Any MailWizz alternatives?
Of course, there are some MailWizz alternatives like world-famous MailChimp. You can also take a closer look at AWeber, GetResponse and FreshMail. The list is a lot longer. However all those services work as SaaS (Software as a Service) with a monthly fee. Price depends on limits and features. A huge subscribes list will make those services really expensive in comparison to MailWizz.
There are some big advantages of MailChimp and other MailWizz competitors like good integration with many famous content management systems (e.g. WordPress) and e-commerce platforms (e.g. PrestaShop). They are also very easy to use and have good WYSIWYG editors.
Conclusion
To summarize, MailWizz is a system that has made other email marketing systems outdated. The well established and supportive features are tried, tested and trusted by millions of businesses. Handling multiple websites was never before this easy! Besides being able to send unlimited number of emails to unlimited subscribers, MailWizz comes at a price that is astonishingly affordable. Another advanced feature allows you to control your customer dashboard from the backend, this works wonders when you are looking to provide an unmatched customer service.
This server-based email marketing tool asks for onetime payment, there is no monthly fees. Just install it on your hosting by paying the one-time fee and start your email marketing. You get lifetime updates too, so be assured of benefitting from the advanced features in the future as well. The best standalone tool is user friendly, hence it doesn't matter whether you are an expert or have just started. With MailWizz, sending emails will be a walk in the park. Don't you find this interesting?
Manage your email marketing for multiple websites and online stores from one place with MailWizz. Just configure properly and get ready to use all the fantastic features.
Collect a valid MailWizz coupon code. Buy email marketing software as cheaply as possible!