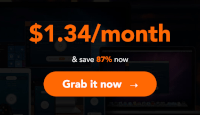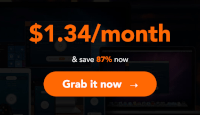 87% off Ivacy VPN 5-year plan
Deal Activated, no coupon code required!
Choose 5-year plan of Ivacy VPN and save 87%. The 5-year plan includes the biggest savings and is fully refundable for 30 days. You pay only $1,34 a month.
Expires: No Expires
Submitted: 8 months ago
Reduce Your Vulnerability With Ivacy VPN
With the increase in the number of hackers, the world of internet has become quite vulnerable. So, if you want to protect yourself in this vulnerable world, the first thing that you would need is a VPN and Ivacy VPN is here to provide you with the best services. But apart from the basic protection, their service includes a whole lot of other things as well.
Why is Ivacy VPN one the best in the market?
Imagine the hassle that you would have to go through if you have to work on multiple devices and thus sign in and sign out for every session so that a certain security level is maintained. With Ivacy VPN subscription, you can keep 5 of your devices protected at the same time. You will be saving so much time because you would not have to repeatedly log in to your accounts every time you switch your device. Several websites come with geo-restrictions.
Unblock country-restriced websites and services with Ivacy VPN
In order to avoid that, you can get the services of Ivacy VPN, and get access to all those contents. Unblock all those webpages with the blink of an eye as long as your location is masked by Ivacy's services. Apart from all this, there are several malicious websites who are waiting to get sensitive information out from you but with Ivacy VPN, you can stay safe and protected from any such mishap.
Ready to try Ivacy VPN? You have money back guarantee!
The best thing about the services of Ivacy VPN is that they give a 30-day money back guarantee on their services. So, stay safe from the unknown dangers of the cybersphere that are always lurking to get you into a trap.