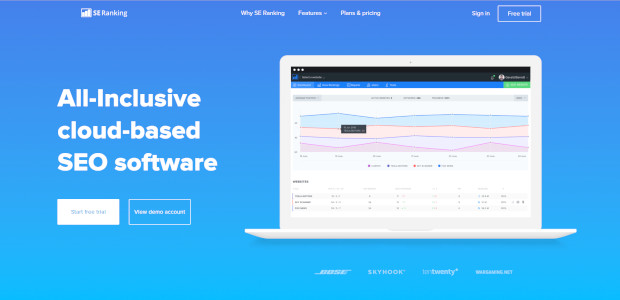 If you are interested in SEO, you probably use many tools created for SEO specialists. One of them is SE Ranking, a foreign tool that works as SaaS. Although I am a fierce opponent of SaaS (not only in the SEO industry), I think that SE Ranking is a great tool worth using. In addition, SE Ranking is really cheap.
SE Ranking is a foreign, cloud-based platform intended for people dealing with SEO and internet marketing. It provides a full set of tools for search engine rank tracking, a comprehensive website audit, competition research, keyword suggestion and grouping, professional reporting, page changes monitoring and many other useful modules. Apart from standard SEO tools, the system offers a set of additional features, such as White Label and Marketing Plan. Everything is operated on a single platform with an extremely user-friendly interface.
SE Ranking modules
The main platform panel provides access to a lot of interesting information, focusing primarily on pages added directly to SE Ranking. The most commonly used modules include keyword phrase rank tracking. The platform perfectly copes with keyword tracking, being equal in this respect to other rank tracking tools in the SaaS model. One of the most interesting features available in SE Ranking is an automatic SEO audit. Contrary to often confusing results generated by many competitive automated tools, after adding a website to the SE Ranking panel, you can get reports filled with detailed and reliable information. It is a perfect option if you need to monitor links from e.g. sponsored articles published on WhitePress. The responsible SE Rating module allows you to freely edit many available table fields and use several convenient tabs. You can check link sources and quickly look through anchors.
SE Ranking functionalities
SE Ranking can effectively track your work and filter and disavow backlinks. It facilitates finding keywords from the short and long tail, which helps optimize published content quality. The platform may also be activated in order to improve marketing operations or perform them from scratch by developing a comprehensive marketing plan on the platform. Moreover, SE Ranking ensures full visibility of the user's presence and activity in social media. It allows managing all social media profiles from the level of a single interface, regardless of their number. Integration with Google Analytics and Google Webmaster Tools guarantees seamless data flow between profiles and enables creation of extremely accurate reports at any time, both in manual and scheduled modes.
Advantages for SEO experts and beginners
SE Ranking has a range of other unique and valuable offers for its users. They include accurate ranking results for most search engines with advanced analysis and keyword grouping. You can also check rankings with various frequency: from daily intervals to occasional analysis. SE Ranking can be extremely useful both for SEO and internet marketing experts and for beginners. In case of large projects, available tools make it possible to easily monitor a huge number of keywords, introduce many new users and edit all changes manually. SE Ranking may provide valuable aid in many different activities and is therefore suitable for virtually any project. By using it, you can easily analyze the site, monitoring hundreds of SEO related parameters so as not to miss any critical mistake or a favorable opportunity.
Prices of SE Ranking plans
A Personal SE Ranking account costs 7 USD per month. Under this plan, you can optimize 5 websites and monitor over 1000 backlinks, as well as conduct an audit of up to 5,000 pages. The Personal plan includes SEO audit of the landing page, keyword grouping and support for the marketing plan. It also makes it possible to use a flexible report generator and backlink explorer. An Optimal account costs USD 39 per month. It includes all personal functions, access to sub-accounts and tools related to analytics and management. You can monitor up to 5,000 backlinks, conduct an audit of 25,000 pages and optimize up to 10 websites. The most popular SE Ranking plan is called Plus and it is charged USD 89 per month. It includes all the optimal functions and optimization of an unlimited number of websites. You can conduct an audit of 150,000 pages. The plan includes monitoring of 25,000 backlinks, efficient invoicing and white label management. The Enterprise plan, the most expensive one, has the smallest number of limitations. For USD 189 per month, you can optimize an unlimited number of pages, monitor 75,000 backlinks and conduct an audit of 250,000 websites. The package also provides access to API (Application Programming Interface).
Discounts for SE Ranking users
SE Ranking is extremely dynamic and constantly evolving. With each update, you get access to further improvements as well as completely new solutions and modules. Another advantage of the SE Ranking toolkit is its favorable price, thanks to which the platform turns out to be a cost-effective support for every online business. SE Ranking offers four different payment plans, intended for individual customers and companies. Free trial access to all tools lasts for 14 days. New customers may benefit from coupon codes providing a discount for any SE Ranking plan. The discount is valid after entering the code at the ordering stage. When you fill in the form, remember to enter the same email address as when you were registering for the trial period.
Collect a valid SE Ranking coupon code. Buy as cheaply as it's possible!